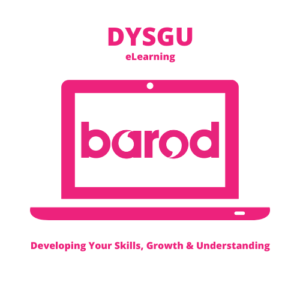 DYSGU (Developing Your Skills, Growth and Understanding) is Barod's eLearning Platform.
We provide a range of learning courses to staff and volunteers via eLearning, as well as open courses which share specific campaign messages with our partners in other organisations and the general public.
You will need to register to access the courses.
If you have previously registered and want to start another course, just log in and and all current courses should be listed in your profile.  If this is not the case, please contact training@barod.cymru, letting us know which course you would like to be able to access.
Please remember to read the terms and conditions below before registering. 
Here is a short video walk-through of how to use the eLearning site
Available Open Courses
NEW for March 2022

– Working with Concerned Others

This course is primarily for professionals who support, or are likely to support those affected by a loved one's substance use. Drug and/ or alcohol use does not just affect the person undertaking that behaviour, but it can also affect those around them, including loved one's and friends.

At the end of this course, you should be able to:
Define what is a concerned other
Explain why a concerned other may not access support
Outline the outcomes of Parent and Carer Training
Recall how to access support
List the 6 C's relating to those concerned about a loved one or a friend
Harm Reduction
This eLearning course is suited for anyone who is supporting someone who uses drugs or alcohol. Harm Reduction is a vital part of everyday life and underpins all we do at Barod.
This course will give you an understanding of the principles of harm reduction, as well as practical skills around reducing the harm of drug taking behaviour. Following completion of this course, we advise you compliment it with our free overdose awareness eLearning.
Novel Psychoactive Substances
This is a broad term to cover the wide range of substances that were inaccurately labelled 'legal highs'. This course will give you the awareness and knowledge of what we mean by 'Novel Psychoactive Substances, what are the risks, what is the law, and most importantly, how can someone using these substances reduce their harm and access support.
Cannabis and Synthetic Cannabinoids
This short course covers key points about cannabis and synthetic cannabinoids.
As reported in the 2019 Crime Survey for England and Wales, Cannabis is the most frequently used illegal drug. The same survey also highlights that whilst NPS (Novel Psychoactive Substance) use is still low across the general population, when used, 40% of NPS use is the use of smokables… Synthetic Cannabinoids. This course is best used as a follow on to the Novel Psychoactive Substances course above.
Ketamine: Harm Reduction
As part of our 'Through the K-Hole' campaign, we have released a Ketamine eLearning course. As part of this course you will learn what ketamine is, its effects, risks and harms when used, as well as harm reduction tips and techniques for those who intend to use the substance.
For more information regarding the 'Through the K-Hole' campaign, please visit our dedicated page here.
Needle Safety
For Adult Learners Week 2020, we have released a new 'Needle Safety' eLearning course. Here you can learn about the purpose of a needle exchange as well as how to safely deal with and dispose of, any discarded paraphernalia such as needles, that you may come across.
For more information on Adult Learners Week 2020, please visit the webpage.
Overdose Awareness
To mark International Overdose Awareness Day on 31st August, we have released a brand new 'Overdose Awareness' eLearning course.  Find out what causes an overdose, how we can all help reduce drug related death and what to do in case of an overdose.
This course is essential for anyone who works with or knows someone who may be using substances.
For more information on International Overdose Awareness Day visit the webpage
Grey Matters
Grey Matters Part one and part two – two courses to help professionals understand more about Alcohol Related Brain Damage (ARBD) and to find out what they can do to support those who have or may have ARBD
This package is available until 31st October 2020 as part of a campaign funded by Think Wise Age Well.  Visit the Grey Matters page for more details.
Time to Brew
Barod have teamed up with our partners Kaleidoscope, to deliver the #TimeToBrew campaign. The campaign aims to 'Build Resilience and Ensure Well-being' while minimising the harm associated to alcohol use during the coronavirus lockdown. As with any other life transition, whether it be kids flying the nest, retirement or adapting to the coronavirus pandemic, our relationship with alcohol can change alongside it.
For more information, visit the Time To Brew page