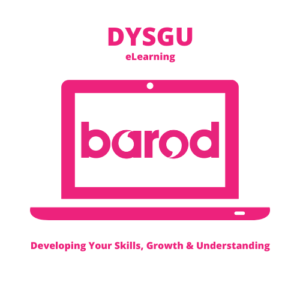 DYSGU (Developing Your Skills, Growth and Understanding) is Barod's eLearning Platform.
We provide a range of learning courses to staff and volunteers via eLearning, as well as open courses which share specific campaign messages with our partners in other organisations and the general public.
To register to access the current open courses that are on offer, you can visit the DYSGU website .
(Please see the terms and conditions below before registering)
Here is a short video walk-through of how to use the eLearning site
Available Open Courses
Grey Matters
Grey Matters Part one and part two – two courses to help professionals understand more about Alcohol Related Brain Damage (ARBD) and to find out what they can do to support those who have or may have ARBD
This package is available until 31st October 2020 as part of a campaign funded by Think Wise Age Well.  Visit the Grey Matters page for more details.
Time to Brew
Barod have teamed up with our partners Kaleidoscope, to deliver the #TimeToBrew campaign. The campaign aims to 'Build Resilience and Ensure Well-being' while minimising the harm associated to alcohol use during the coronavirus lockdown. As with any other life transition, whether it be kids flying the nest, retirement or adapting to the coronavirus pandemic, our relationship with alcohol can change alongside it.
For more information, visit the Time To Brew page