New Welsh peers set to hit the streets of Merthyr Tydfil to dispense life saving drug
Six new peers have been trained to start dispensing naloxone in a bid to save lives and reduce drug-related-deaths in Merthyr Tydfil. Simon, Lisa, Jey, Gemma, Bleddyn and Kelly, who now form MADD (Merthyr Against Drug Deaths) attended the two day training (27th & 28th September 2021) that was facilitated by the ever energetic, George Charlton and supported by Fiona Konteh from Ethypharm and South Wales Police.
The pilot will kick off on 7th October 2021. The peers will be given a safe space within our Oldway House building in Merthyr Tydfil on a weekly basis, where they will pack their bags full of naloxone in the morning and hit the streets to flood the town centre full of the life saving drug. They will be wearing their "Ask me about naloxone" tops and will be making their presence in the community to reduce drug related deaths. So if you see them, ask them about naloxone!
South Wales Police are fully on board with this pilot and are right behind the peers in disseminating naloxone within Merthyr Tyfil. A total of six officers were also trained over the two days. They know our peers, the objectives of the pilot and they want to help, with one officers saying preserving life was his duty.
If you would like to know more about naloxone, please click here. You can also get naloxone from any of your local Barod services.
Picture below: Some of the attendee's at the two-day Peer to Peer Naloxone Training in Merthyr Tydfil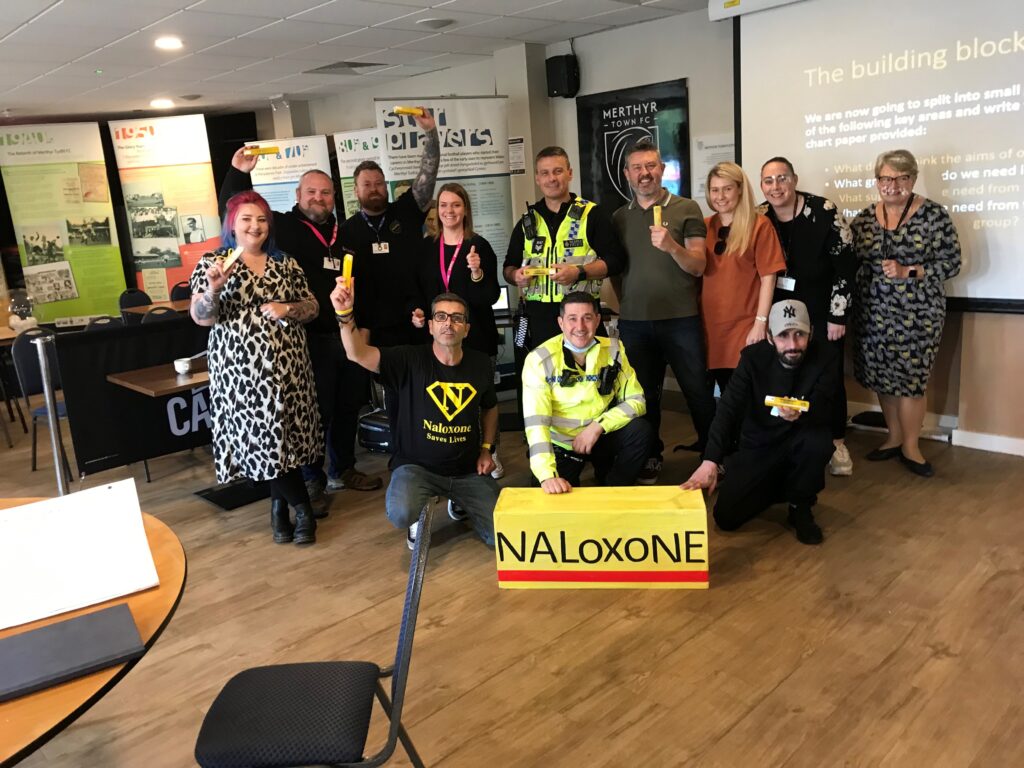 Picture below: George Charlton training some South Wales Police Officers