The landscape of medicinal cannabis in the UK underwent a significant shift on 1 November 2018 when the law was changed to allow the prescription of unlicensed cannabis-based medicinal products under specific circumstances. This milestone victory was achieved after a long and hard-fought battle, resulting in my son, Alfie Dingley, being granted the first funded NHS prescription for his epilepsy.
This ground-breaking development offered hope to countless patients who could potentially benefit from this life-changing treatment. However, despite the growing number of individuals experiencing positive outcomes, the reality remains that private or illegal access to medicinal cannabis remains the only avenue available for patients, including some of the most vulnerable children in the UK. To make the situation even more difficult, since the law change there has only been two private prescribers for children with epilepsy in the UK; One of these doctors retires in July, leaving children desperately at risk.
It is essential for the UK government to take immediate action to address this issue.
So what is the current situation in the UK?
In the UK, the NHS is allowed to prescribe cannabis for any condition but, in reality, as of June 2023, there were just five NHS prescriptions for unlicensed products – whole plant cannabis treatments – compared to around 28,000 patients treated by private doctors.
Since 2018, only four children have received an NHS prescription for medicinal cannabis, despite the potential benefits it holds for children living with intractable epilepsies. Despite studies demonstrating it is 'an effective and well-tolerated medicine for reducing seizure frequency in children suffering with intractable epilepsies', and the NHS's own guidance allowing for prescribing, families of seriously ill children are forced to fundraise to pay for private prescriptions or, in some cases, resort to illegal access to help their children.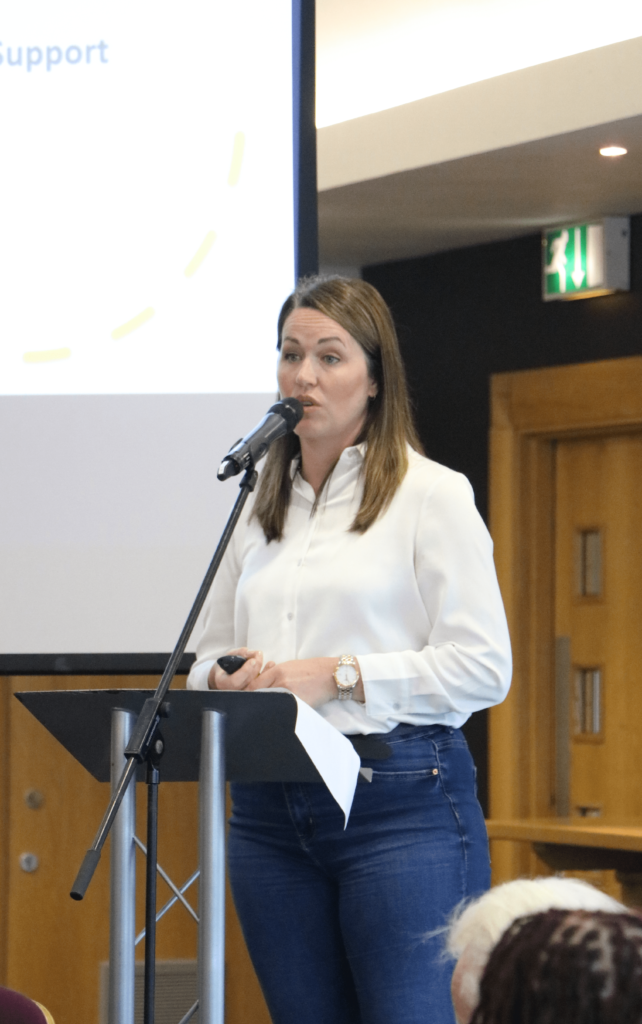 Hannah Deacon presenting at Barod's annual conference at the Swansea.Com Stadium in May 2023.
Why are there so few NHS epilepsy prescriptions for medical cannabis?
The lack of NHS prescriptions situation is due to three main factors:
1. Restrictive Guidance from NICE
Guidelines from the National Institute of Health and Care Excellence (NICE), while acknowledging the use of Epidyolex for epilepsy, a licensed cannabis based treatment, state that all other cannabis-based medicinal products are unlicensed for epilepsy and more research in the form of randomised controlled trials (RCTs) must take place – something impossible for a botanical extract and ignoring 55,000 citations on PubMed of observational and real-world evidence.
Though NICE guidance states that 'specialists, people with epilepsy, and their carers should continue to make treatment decisions in the best interests of each person with epilepsy, in line with the GMC's guidance for doctors', in reality, the lack of support by the British Paediatric Neurology Association (BPNA) and other professional organisations prevents this best interest prescribing.
2. Lack of support from the BPNA
Unhelpfully, the BPNA has produced very negative "guidance" on prescribing medical cannabis for epilepsy. Their guidelines consider there to be 'either insufficient evidence or limited evidence that cannabis-based products were of therapeutic benefit in epilepsy and specifically that good quality evidence was confined to the use of cannabidiol (CBD)', basing this on out-of-date sources and ignoring the overwhelming weight of positive evidence from non-RCT studies and real-world evidence. Perhaps they should read the totality of the evidence before producing such damaging and biased advice.
With no support from their professional body, paediatric neurologists are unwilling to prescribe this treatment, despite being permitted and supported to prescribe unlicensed pharmaceutical treatments.
3. No NHS funding pathways exist
As most cannabis-based medicinal products are unlicensed for use in the UK, no funding pathways exist, leaving it to individual NHS doctors to apply for specialist funding for each prescription, either from NHS England or from their local trust or Integrated Care Systems. This lack of clear direction and funding makes it easy to see why only five NHS prescriptions exist.
The Medical Cannabis Clinicians Society has produced an informative, evidence-based set of guidelines to support clinicians, which can be found at ukmcccs.org.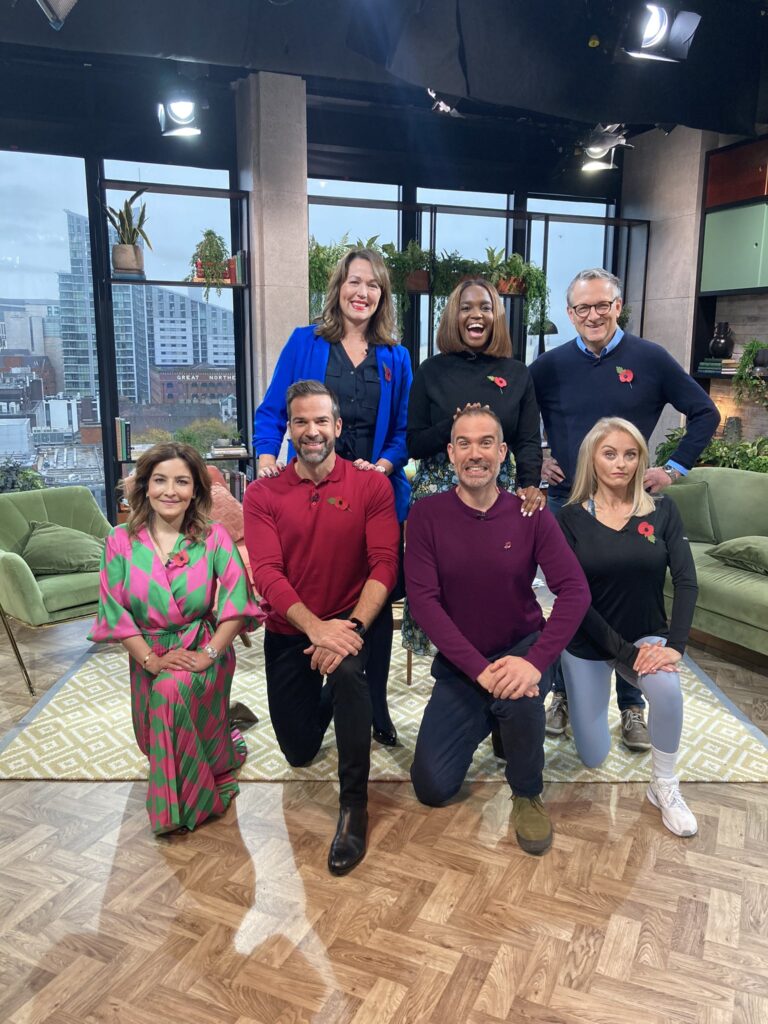 Hannah Deacon on BBC Morning Live in November 2022, outlining why the Government must do more to ensure access to prescribed cannabis. Image source: Twitter
A manifesto for change 
As the co-founder and Chair of the MedCan Family Foundation, a dedicated group that provides support to families of children with intractable epilepsy seeking access to cannabis medicines, I have taken an active role in advocating for change. In response to the existing challenges, the Foundation has developed a comprehensive manifesto, urging the government to address the current situation and ensure equitable access to medicinal cannabis for all who need it.
Guidance
Doctors need clear clinical guidance to confidently prescribe medicinal cannabis. We call on (NICE) to revise their guidance urgently, considering successful treatment cases and implementing harm reduction strategies for families resorting to illegal products.
Education
Closing the knowledge gap is crucial. We propose the establishment of an industry fund to support the Medical Cannabis Clinicians Society in providing unbiased education and mentorship for consultants. By enhancing their prescribing knowledge, we can ensure that patients receive the most appropriate treatments.
Cost
We recognise the importance of cost efficiency and funding for children's healthcare. To address this, we are taking action by conducting a Health Economic Analysis of children's healthcare and highlighting the benefits of medicinal cannabis for the NHS.
Evidence
To build a comprehensive understanding of medical cannabis, we advocate for the activation of the NHS Cannabis Registry. This registry will capture real-world data on patient safety and treatment outcomes, creating a world-class database. Initial results from the PhytoEpil study show promising outcomes and further support the need for evidence-based decision-making.
Supply
To overcome supply issues and promote domestic industry growth, we propose a government program to fast-track cultivation licenses for UK producers. By reducing import requirements and encouraging innovation, we can ensure a stable supply of vital products for paediatric epilepsy patients.
Help us make the change
Children with intractable epilepsy are being left to die because there is no access on the NHS. It's time for the government to prioritise the well-being of patients and provide children with the treatment they desperately need.
It is our collective responsibility to challenge the current barriers, educate healthcare professionals, and advocate for access. By signing the petition, you can contribute to positive change and help improve the lives of countless children and families in need. Together, we can make a difference.
Sign the petition 'Stop Denying Patients Access to Prescribed Medicinal Cannabis on the NHS' at https://www.change.org/medicalcannabisnhsaccess
Hannah Deacon is one of the most influential and high-profile female leaders in the UK's medical cannabis sector. A trusted sector expert, as a Director of Maple Tree Consultants, Hannah's encyclopaedic knowledge of the medical cannabis sector and real-world experience positions her perfectly to support businesses entering and expanding in this emerging market. Hannah is passionate about advancing the opportunities for trade, investment and growth in a sector that has the potential to change so many people's lives for the better. Driven by a mission to ensure the patient is at the centre of the conversation in this developing sector, Hannah's dedication to campaigning for patients' rights in this space succeeded when the law changed on 1 November 2018, which led to cannabis becoming legal as a medical treatment. Her successful campaign on behalf of son Alfie Dingley, who lives with a rare and severe form of epilepsy, led to his doctors receiving the first schedule one license to prescribe whole-plant cannabis in the UK. Twitter: @Hannah_Deacon40