There is significant problematic substance use among the LGBTQ+ population which research suggests is higher than in the wider population. This is coupled with reported high levels of substance dependency and barriers to accessing support or information from formal services. Hidden Figures (2020) reported that substance use within the LGBTQ+ populations may be a consequence of the lifelong discrimination, marginalisation and isolation often experienced by people within these groups. These issues are not fully addressed or understood largely due to, a lack of qualitative research investigating the drug and alcohol use behaviours of LGBTQ+ groups and their treatment needs. Consequently, there is substantial risk of continued hidden harm among LGBTQ+ populations. Pubs and clubs on the commercial gay scene remain viewed as 'safe' spaces for LGBTQ+ groups, namely, a place to meet other LGBTQ+ people and feel comfortable with their true identity, away from the heteronormative world. Historically, research conducted in the UK relates to substance use among gay men or Men or have Sex with Men (MSM). The focus of which outweighs the amount being conducted on other members of the LGBTQ+ population, namely trans people's substance use. A team of researchers at the University of South Wales' Substance Use Research Group (SURG) ran a pilot project which has begun to address these gaps in knowledge and provides a basis for a large-scale, collaborative project that will investigate substance use from difference perspectives across different locations.
The project had two key aims: (1) to increase understanding of substance use problems among people within the LGBTQ+ community, and (2) to identify the barriers to/facilitators of substance use treatment entry among LGBTQ+ people. Collaboration and co-production were very much at the center of this project. We therefore worked in partnership with a range of key stakeholders and developed the data collection tools with the support of treatment professionals and people who identify as LGBTQ+ (who have lived/living experience of substance use).
The feedback provided from LGBTQ+ groups suggest there needs to be swift action taken to improve the visibility of sexual and gender minoritized groups in service provision for drug and alcohol-related problems. Although most of the respondents reported having had used drugs, most had not used in the last 12 months. However, alcohol was reported to be readily used (and in high amounts) as 26% of respondents reported consuming 7-9 units of alcohol per week, while 19% reported drinking 10 or more units per week. The most significant finding related to the connection alcohol use has with offending behaviour and victimisation. Of the 38 respondents, 81% had experienced force of sexual activity or threat of force. When reviewing this further, those who identify as transgender or have a history of being transgender (32%) have a high rate of experiencing sexual violence (83%). A stark, yet noteworthy finding, reflects a small body of literature suggesting transgender people are more frequently exposed to sexual violence while under the influence of alcohol than their cisgender counterparts.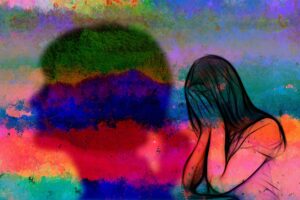 Image source: Pixabay.com
Respondents further discussed that certain drinking behaviours or patterns of drinking were associated with particular LGBTQ+ groups stating:
'A lot of LGBT, particularly gay male, spaces and activities revolve around alcohol – such as gay bars and clubs – which makes it difficult to have activities planned that do not involve consuming alcohol'.
'Greater focus on community commercial venues as safe places in the community and these are quite often sanctuaries for people who are not out or are not able to be out'.
'Stigma' was noted to be a direct cause for these reported drinking differences:
'I know a lot of gay guys, myself included, who started drinking in their teens to cope with trauma – such as being bullied or coming to terms with our sexuality'.
While others discussed feeling 'pressure' to drink or attributed high levels of drinking to mental health and trauma:
'There is a pressure to drink in the LGBT community and in company'.
'Queers drink more because our lives are more shit, due to discrimination, we have higher rates of poverty, unemployment, health inequality, incarceration, assault, and (as a result of all that) mental illness. We also have a dirth of queer social spaces, and the majority of those are centered around drinking'.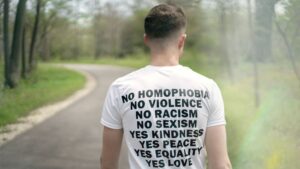 Image source: Pexels.com
In accordance with research on treatment engagement, most respondents expressed they would engage only with informal forms of support or self-help and attributed this to fears of 'stigma' and 'discrimination' that permeate among LGBTQ+ groups. A few possible solutions to these views were posed such as encouraging service providers to increase LGBTQ+ visibility for instance, employing more LGBTQ+ staff, having peer-led support and more staff training and awareness of LGBTQ+ needs. Although many expressed the need for tailored services, the practicalities of such a request would need further consideration due to drug and alcohol services being desperately underfunded and over stretched. It is however important to have services that are designed with the needs of LGBTQ+ people in mind which may not mean separate services, simply services that are informed. More exploration is needed on peer-led and tailored interventions to establish whether these are best to encourage engagement with services and identify the nuances specific to substance problems of particular minoritsed groups.
Shannon is a PhD student researching Gay and Bisexual men's experiences of Intimate Partner Violence (IPV) in England and Wales. The focus of which is understanding how Gay and Bisexual men experience relationship abuse and their experiences in engaging with support services in England and Wales. Alongside working as a PhD student, Shannon also works as a research assistant at the University of South Wales in the Substance Use Research Group (SURG). Twitter: @ShanMur94.