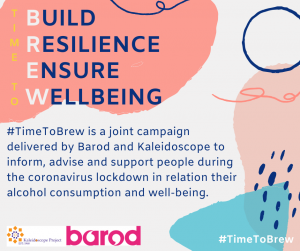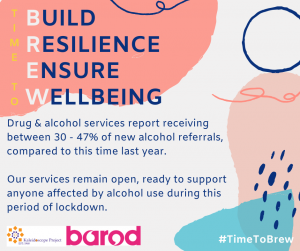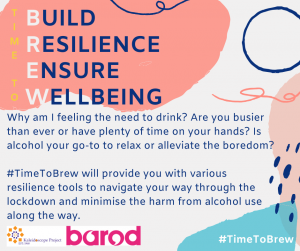 Barod and Kaleidoscope launch a joint Alcohol awareness campaign to support people looking to reduce their drinking and enhance their wellbeing during the coronavirus lockdown.
On the 18th March 2020, in light of the global coronavirus pandemic, Barod adapted the way it was providing support to those affected by substance use. Such changes, based on advice and guidance from Public Health Wales, Welsh Government and U.K Government, included the suspension of face-to-face interventions and replaced by digital support. However, all our services continue to remain open and we are ready to support anyone affected by substance use during the coronavirus lockdown period.
In light of these unprecedented times, Barod have teamed up with our partners Kaleidoscope, to deliver the #TimeToBrew campaign. The campaign aims to 'Build Resilience and Ensure Well-being' and raise awareness of alcohol use while reducing the harm associated to drinking at home, during the coronavirus lockdown. As with any other life transition, whether it be kids flying the nest, retirement or adapting to the coronavirus pandemic, our relationship with alcohol can change alongside it.
With reports of people consuming more alcohol during the coronavirus lockdown and alcohol-specific referrals into treatment services significantly reduced compared to this time last year (18th March – 15th April 2020), #TimeToBrew will provide a variety of resources and interactive content for you or a loved one, to navigate your way through these uncertain times, while maintaining your wellbeing and reducing the harms associated to alcohol consumption.
Continue to return to this page for up-to-date downloadable resources (below) as well as check out our social media pages at @wearebarod and @Kaleidoscope68 (Twitter)/ @Kaleidoscopeproject68 (Facebook) for all the up-to-date links, information and resources relating to the #TimeToBrew campaign.
Below are a variety of resources and self-help tools available to download.