Barod believes in the power of learning and we know how it can positively impact individual lives and improve services.  That's why we are excited to be getting involved in Learning At Work Week 2021. 
Learning At Work Week (LAW)is a national celebration of learning and we want to share the opportunities that we have to learn with our staff, volunteers and those outside of Barod, to help spread the joy of learning and, hopefully, inspire others to commit to developing their knowledge and skills for life.
We have an exciting programme of free events and opportunities to learn and share learning, focusing on a range of topics and ideas. We will be posting regularly on social media throughout the week, releasing new eLearning courses and running bitesize workshops for you to attend.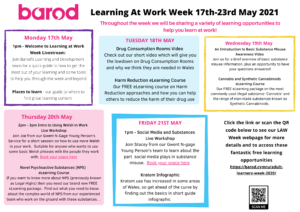 Click onto each date below for more details on how you can get involved